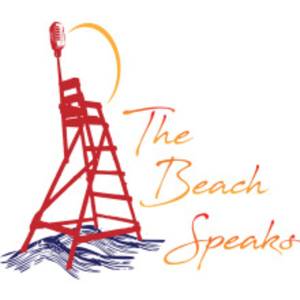 A few months ago Sheri and I met atop the Casa Marina Hotel - an iconic Jacksonville Beach venue overlooking the Ocean.
I wanted her input about some about projects and events I wanted to create, because, if you have an idea, Sheri knows the who, what, where and how to make it happen.

As we talked about conscious community, taking care of our fellow human beings and the planet, and where I wanted to take The Beach Speaks going forward, I knew she would be the perfect guest for this re-launch of the podcast.

Then, along came a virus. . .

While my primary intent was to talk about conscious community during a pandemic, we let the conversation flow and ended up talking about a variety of subjects:
- What it was like growing up at the beach
- The importance of paying yourself if you're a stay-at home mom
- Finding balance and happiness in the times when you feel most uncomfortable
- Why it's ok to feel sore after doing Tai Chi
- Vision boarding
- The importance of creating a sustainable and simple lifestyle 

Like Sheri says: "Happy Healthy Planet, Happy Healthy Life"
I hope you like this episode with the New Age Hippy herself: Sheri Nicholson   
 
To find out more about all the New Age Hippy events and offerings go to: 
If you want to help support and fund our local Health & Wellness Professionals who are out of work right now due to Social and Physical Distancing, click on the Locals on A Mission tab on their home page and donate. 
All Proceeds will be used to give these professionals the ability to continue sharing their passion for Healthy ways to live. You will find free videos on Sheri's site www.sherinicholson.com, where you will discover a variety of online programs ranging from Meditation, Functional Fitness, Tai Chi, Pilates, Yoga, Music, Lifestyle skills and more.
For your daily "beach fix" subscribe to:  @The Beach Speaks on Facebook and Instagram
For more information about the podcast:  www.thebeachspeaks.com